Project Type -

Print & Book Cover Design
Programs Used -

Apple Procreate, Adobe Illustrator, Adobe InDesign, the ArtiVive App
Art Direction -

Prof. Scott Laserow for GAID Advanced Graphic Design
Resources -

The Public Domain
The AR Boxed Set project is an eccentric cover redesign of three Philip K. Dick novels:  Ubik, A Scanner Darkly, and Do Android Dream of Electric Sheep?
Inspired by the retro-futurism era, these book cover designs were created to reflect their sci-fi content, exploring themes of life, death, and immortality.
These three book covers are meant to be viewed as a set with corresponding color palettes, subject matter, and matching spine designs. Their contained boxed set features a futuristic skyline that is meant to captivate all three narrative worlds in one illustration. And by scanning this illustration with your phone, the elements of the boxed set have the ability to dance and come to life through the ArtiVive augmented reality app
The connecting spine designs featured above showcase a hand hovering below the iconic main object of each book, amplifying the visual themes of life, death, and immortality that are prevalent throughout these science-fiction novels.
The use of vintage poster textures with a distressed, weathered effect is combined with a bold and unexpected color palette to further add to the Retro-Futuristic style. This aesthetic paired with the featured vector illustrations creates crisp imagery that pairs well with the clean, yet approachable chosen typeface. These elements work together to yield a unique fusion of past and future, resulting in designs that are both nostalgic and forward-thinking.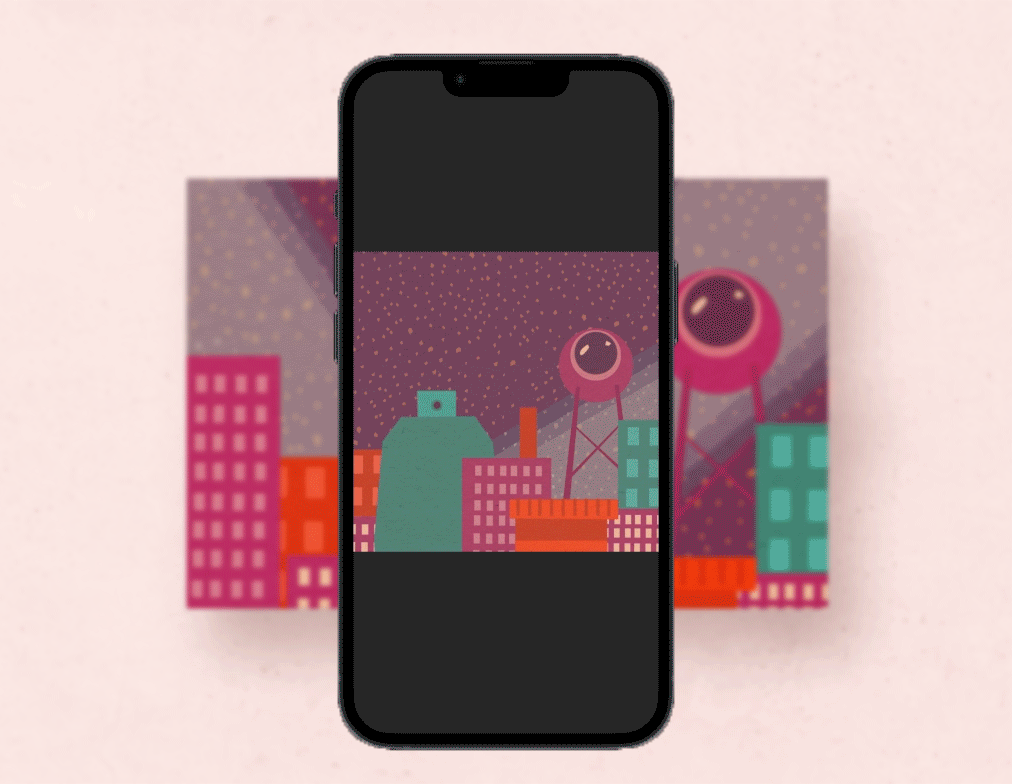 Augmented Reality through 

ArtiVive
Augmented reality apps can bring still images to life by animating them and scanning the image with your phone. It's an innovation that has allowed many artists to take their work to a new interactive level. This box cover illustration contains tribute elements of all three featured novels and captivates a science fiction skyline with the essence of the Retro-Futuristic style that is maintained throughout the project. With a quick scan of your phone, the skyline springs to life, creating a surreal dance of the buildings and lights that aids the overall aesthetic feel of this cover set. 
The featured GIF shows how the boxed set would animate through the ArtiVive app.
Stylizing for

Retro

-Futurism
The Retro-Futuristic style has unique visual characteristics and aesthetic requirements to it, which provided me with a valuable opportunity to further develop my style as an illustrator. Adapting to the needs of this project helped me craft better visual exploration skills and further find my balance between graphic design and illustration through a more dynamic vector-based approach.
As each book in this series explores the ideas of life, death, and immortality through unique science fiction concepts, the covers ARE designed to showcase how these ideas were portrayed specific to each novel while still upholding a cohesive visual style and narrative. 
The hand of each cover holds a symbolic object of 'life': be in an immorality spray, an artificial eye, or a drug known as 'Slow Death'. 
*                 *                  *