Project Type -

 Publishing, Illustration, & Branding
Art Direction -

  Prof. Jason Kernivich for GAID Sr. Projects in Authorship
Programs Used -

Apple Procreate, Adobe Photoshop, Adobe Illustrator, Adobe InDesign, & Figma
You Can Find Me in the Garden is an interactive, illustrated children's book that focuses on environmental conservation and ecosystem health while teaching elementary-aged children the importance of ecosystem health, gardening, and spending time outside. The book touches base on starter gardening tips, the nutritional value of growing your own vegetables, and the benefits of growing plants for your local ecosystems as well. This book aims to get children engaged with and excited about environmental care through pop-up illustrations, informational trading cards, and a match-to and scavenger hunt games. 
This is paired with a small branding campaign, in the Garden, which is aimed at parents and elementary educators. It showcases an ordering site, packaging design, and additional starter gardening products. In the Garden utilizes repeat patterns, scanned-in textures, and grand illustrated spreads to create a seamless blend of analog and digital art styles which I have been on a personal journey to further explore in my design and illustration career.
Here at, in the Garden, we are committed to providing children with the necessary education and tools they need to learn to love and appreciate this beautiful planet we live on. Through a fun and interactive experience, our stand-alone book or packaged gardening kit allows parents and young educators to provide their children and students with immersive and awe-inspiring means to understand the wonders of gardening, exploring the great outdoors, and taking care of this world's environmental health and the creatures who live in it.
Elementary
Education & Attention
Spans
When researching early childhood educational practices, the main focus was to determine how long elementary-aged children's attention span can last, and what specific visual and interactive elements in literature can successfully grasp a young child's attention. The reading level of You can find me in the Garden was aimed at ages 5 to 8, but would still be enjoyable for an even younger audience if read aloud to by a parent, teacher, or guardian. 
Some notable found facts included a standard illustrated children's books size (landscape) of 10x8", an average word length of 700 - 1000 words, and a given attention span of 12 to 30 min (depending on how engaging the content is) for an elementary-aged child. With these facts in mind, my story also needed to tell its narrative more visually than literally and keep a consistent level of interactivity through a variety of engagement tactics to keep the reader interested for as long as possible. 
Ecosystems &
Playing Outside
One article researched in particular really set the tone of the overall project: it talked about how the more you play outside as a child, the more likely you are to be passionate about protecting the environment as an adult. Getting outside at a young age has also been shown to boost children's confidence and social skills, help with both overall physical and sleep health, and help with children's creative thinking and problem-solving skills as well. However, in today's world, young children spend over 7 hrs of their everyday life looking at screens, and only 30 mins outside.
From this, I created a goal for my book and branding campaign not only to help parents and educators get their children more interested and informed about environmental conservation but also to be more eager to get engaged in the outdoors on a physical level as well. And to further drive this mission of in the Garden, I decided to narrow down the narrative of my book to solely focusing on the environmental and nutritional benefits of gardening, pollination trends, and backyard North American eco-systems, so that this grand, 'scary' topic of environmental health could be brought down and presented on a more understandable level for young children, where they could see and understand nature in the works in their own backyards and want to engage with it too.
Children's Book Landscape Dimensions:

10x8"
10 Spreads - 

Containing 5 Add-On Activities, and both End-Page and Cover Designs 
Add-On Activities Include -

 2 Pop-Up Illustrations, 1 'Match-To' Game, and 1 Scavenger Hunt Game
Full Spread Illustrations with Informational Text and Captioned Definitions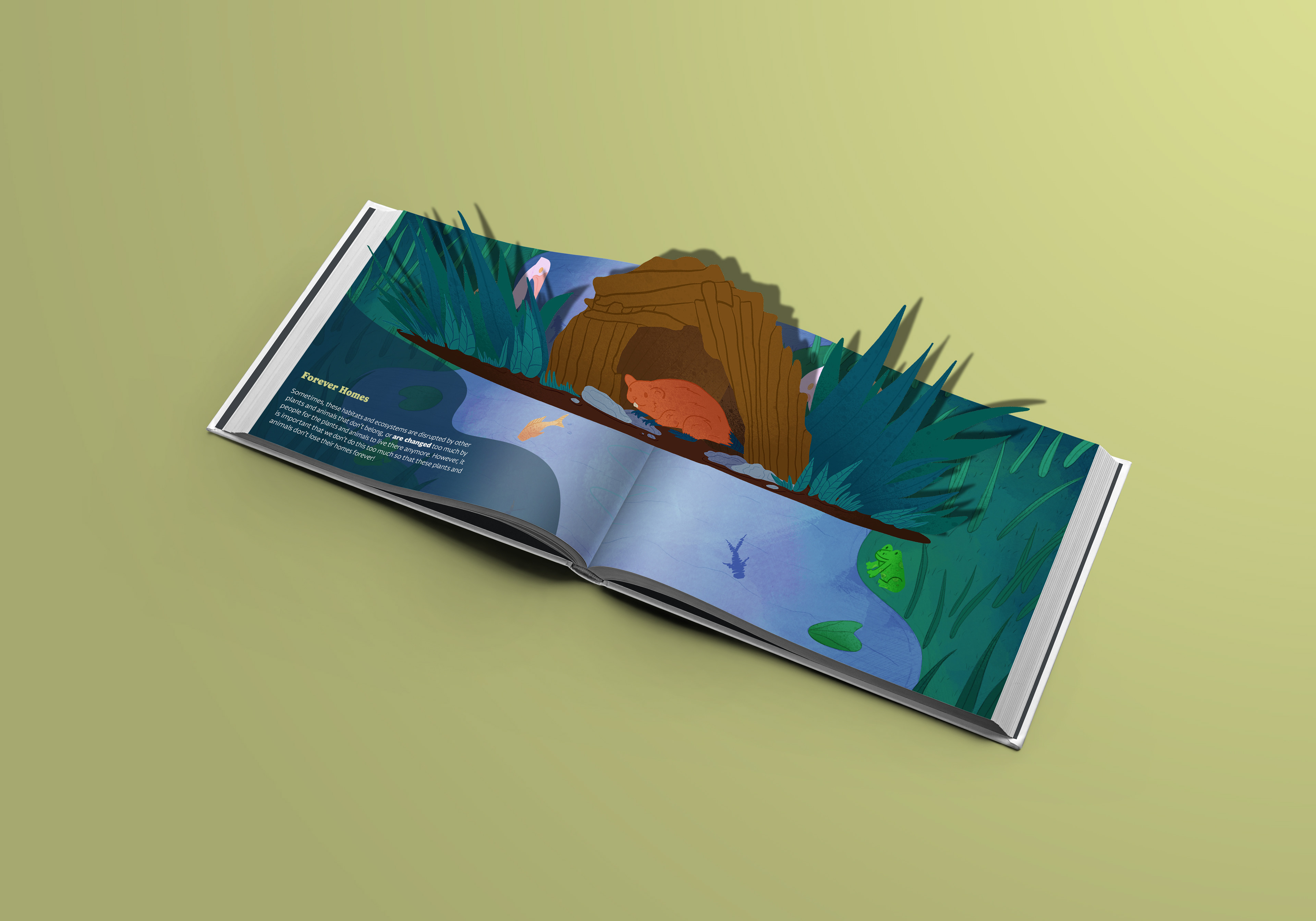 A Responsive Logo / Logo System
An Ordering Site:

A Home Page, a
n About Page with a Mission Statement,  a Shops Collections Page, and an Order Page (with Reviews)
Packaged Kit Includes:

A Sticker Set, a Tee-Shirt, and a set of 3 Grow Cards
​​​​​​​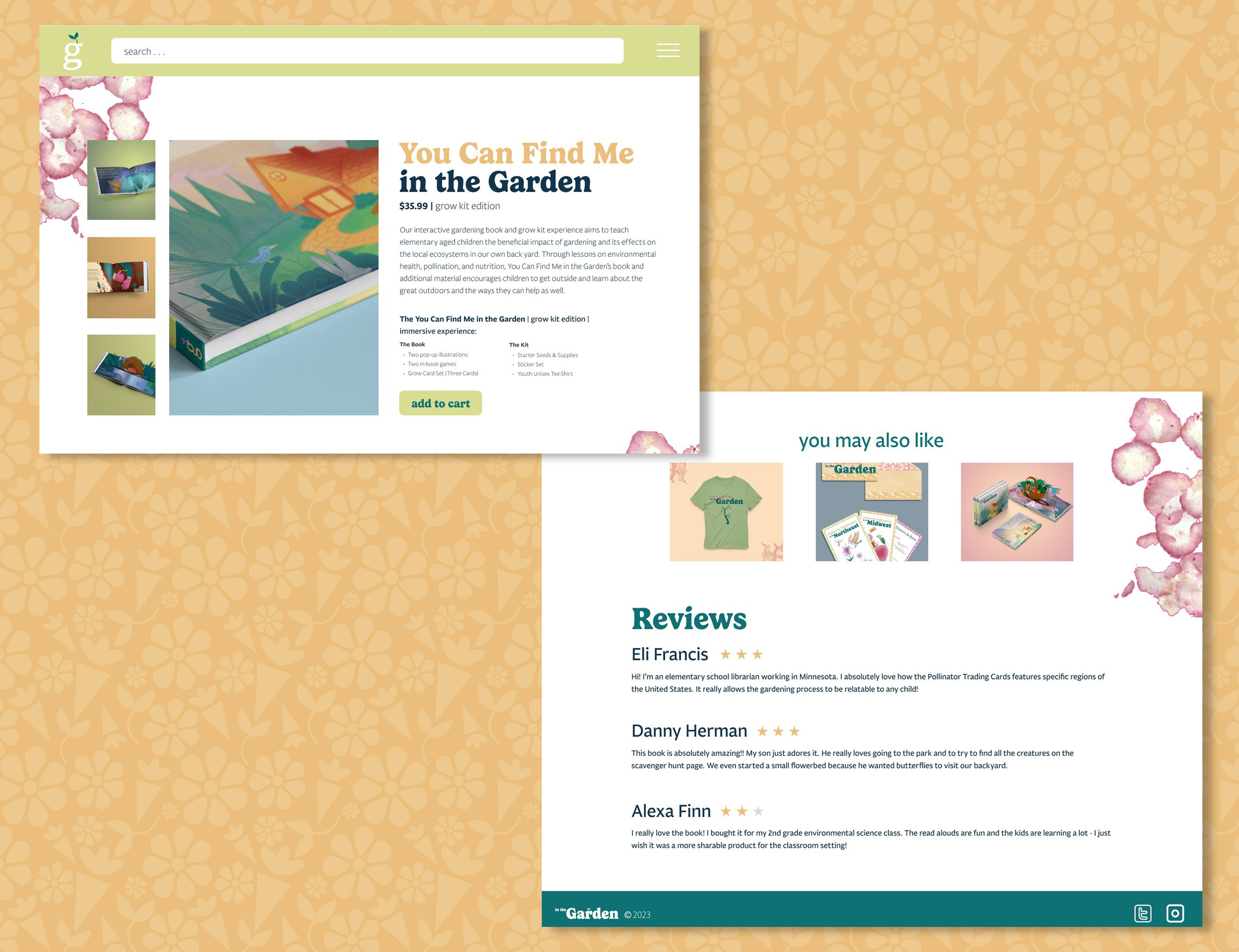 As a graduating designer and illustrator, I needed my thesis project to be something that spoke to all my interests as a creative. Before joining Tyler's Graphic Design program, I was a Journalism student interested in early childhood education, and always enjoyed drawing and painting in my spare time. When I moved over to Tyler with the decision to pursue art as a full-time career, graphic design seemed like the perfect blend of art and creative communication - and this project took that blended passion one step further with the inclusion of writing, educational focus, and incorporation of analog art techniques into my design work. 
And as someone who has a very 'illustrated-children's-book' vibe to my illustration style, my portfolio needed a true publishing piece to show it off!
However, no successful project comes without its challenges, and some of the biggest ones I  faced during this project was incorporating this desired level of analog application and interactive elements into my layout designs. I initially wanted to cut out the pop-up art and construct it myself, having my book printed and bound. 
I also have recently found interest in print-making and thought that scanning analog prints into my illustrations could have been an innovative form of application, yet due to time constraints, I needed to narrow down these deliverables to ensure that my project stayed true to its original mission with a presentable quality to it to drive in its message in the most successful manner possible.
Perhaps soon this book will be physically constructed, until then however, it will serve as a gateway for my designs to enter further into the realms of publishing, education, and environmentally-focused work.
*           *           *